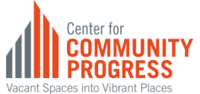 Summer Hybrid Paid Communications Intern
Job Location
Hybrid in-office/Remote -

Washington

,

DC

, United States
Job Description
The Center for Community Progress helps people transform vacant spaces into vibrant places. Since 2010, our team of experts has provided urban, suburban, and rural communities battling systemic vacancy with the policies, tools, and resources needed to address the full cycle of property revitalization. As the only national nonprofit dedicated to tackling vacant properties, Community Progress drives change by uncovering and disrupting the unjust, racist systems that perpetuate entrenched vacancy and property deterioration. Community Progress has delivered customized, expert guidance to leaders in over 300 communities and provided hundreds of hours of free educational resources as well as leadership programming to help policymakers, practitioners, and community members across the country return properties to productive use.

JOB SUMMARY
The Center for Community Progress seeks a curious and detail-oriented applicant to serve as Communications Intern this summer, joining a small team of passionate thought leaders and technical experts who care deeply about racial equity and justice.

As a member of the Communications team, the Communications Intern will have a hands-on role in supporting the external and internal communications needs of the organization, with a focus on audience engagement and social media. Individuals with a strong eye for detail, an interest in developing a generalist communications skillset, and strong problem-solving and interpersonal communication skills are encouraged to apply.

Applicants must be based, or able to commute to the office, in downtown Washington, DC. This paid internship is a ten-week, four days (32 hours) per week hybrid in-office/remote position reporting to the Communications Associate.

This internship is for a candidate who has some amount of previous experience in writing for broad audiences and who is interested in pursuing a career in communications. An individual entering their junior or senior of college who has completed a previous internship is one example of a candidate who fits this profile. However, enrollment in a degree program is not a requirement to be considered for this internship, and we encourage candidates from non-traditional education and employment backgrounds to apply.

Community Progress is committed to providing a meaningful and educational internship experience and will work with the Communications Intern to determine what responsibilities will further their professional development.

DUTIES AND ESSENTIAL JOB FUNCTIONS
• Draft compelling short-form content (e.g., social media posts, blogs) that convey Community Progress research, messages, and other work to different audience groups
• Monitor and post on Community Progress' social media platforms
• Support the Communications team in launching new social media initiatives, like helping produce short videos and potentially reviving the organization's Instagram account
• Assist in developing outreach and audience engagement strategies
• Assist with preparing communications and outreach plans for program announcements, such as webinars and publication launches
• Support communications and publicity efforts at Community Progress' public events, webinars, workshops, and provide logistical support as needed
• Support editorial and proofreading of publications and designed collateral
• Support organization-wide adherence to and implementation of brand standards
• Conduct research as directed to support Communications team initiatives
• Assist with website updates and search engine optimization
• Other duties as assigned by the Communications Associate and Director of Communications

COMMITMENT
The intern will be expected to work 32 hours/week for ten weeks in summer 2023, with 2 days/week in office, 2 days working remotely, and 1 day per week off. Community Progress will work with the intern to determine schedule and start and end dates.

COMPENSATION
Community Progress is offering a stipend of $25/hour and will supply the intern with a company laptop for the duration of the internship. This is an independent contractor position and does not provide benefits offered to employees.
Job Requirements
QUALIFICATIONS

The Communications Intern should have:
• An interest in pursuing a career in external communications, particularly with a focus on social media and audience engagement
• An interest in using social media to communicate with audiences and educate them about complex ideas in an engaging way
• An interest in growing skills in a wide variety of communications areas
• Previous work or internship experience, preferably with communications responsibilities
• Strong writing and editing skills, including the ability to distill complex topics for general audiences
• A sharp eye for detail, particularly the ability to spot typos and grammatical or design inconsistencies in their own and others' work
• Proactive problem-solving skills and a willingness and enthusiasm to ask questions, think creatively, and share ideas
• A demonstrated commitment to public and community service with an enthusiasm for Community Progress's mission and a shared commitment to equity, inclusion, and justice
• Awareness of the history of unjust policies that have contributed to disinvested communities and racial inequities, and a commitment to working collaboratively with leaders in the field to develop new policies and programs that prioritize racial and economic justice
How To Apply
Interested applicants must submit a resume (no more than one page), a cover letter (no more than one page) the skills and prior work experience that equip you for this position, the specific skills and proficiencies you hope to gain over the course of the internship, and your interest in Community Progress, and a non-academic writing sample or samples of professional social media posts you authored.
All materials must be sent in a single PDF by March 27, 2023, 11:59 PM EDT via the form on this page: https://communityprogress.org/about/work-with-us/